JMBW hang gliding page
This is me coming in to land in Altamont, NY, Nov 18, 2007 (Thanks Luiz for the nice pic)
---
I first got into hang gliding in 1988. If I remember right, it was the end of the Spring semester and Ed Lopez was going for a group lesson with a bunch of kids from his HVCC chem lab class (or something like that), and they needed a few more to get the best quantity discount. I think lessons were something like $40/day if you had 10+ people. So I went along (I forget who else from RPI went), and we all went to Susquehanna Flight Park in Cooperstown, NY.
It was awesome! Even though it was just running down a hill at that point, and there were something like six people taking turns with each glider (and the gliders were pigs in those days), at least we all got off the ground. So I got totally psyched, bought my own glider (a used Moyes Mega 2 for $700 including lessons) and harness (Clan Robertson knee-hanger) and started going to SFP regularly. I got my Hang 1 rating right away (and tried to indoctrinate some friends but I don't think any went for more than a couple of lessons), and also took a couple of lessons at Marina Beach in CA when I was working at Apple in summer 1989. But meanwhile I'd transferred to a different school in Vermont, and suddenly Cooperstown was a lot further away (it was already a bit of a haul from Troy). I had heard of Morningside but didn't know where it was, so after summer 1989 I let things slide...
In 1993 I went for a few more lessons (school was over and I was back in Troy) and tried to get back on board. By then RPI had formed a hang glider club, I wish I could remember the club president's name but anyway I remember carpooling with him out to SFP a couple of times. He told me about The Weather Underground, which at the time was a Telnet server (VMD.CSO.UIUC.EDU, port 3000) and you had to type in 3-letter airport codes to get wind forecasts (so we'd interpolate between the Binghampton=BGM and Worcester=ORH forecasts when deciding whether to go to SFP). Things were going great but then the season ended, and the next spring I broke my foot at the RPI auto shop and had to get some pins put in it for a while. It took forever to heal so I knew I was out for that season, and then I never got around to going back.
Until late 2002. By then I'd moved to central Mass., so Cooperstown was pretty much out of the question (unless I turned every lesson into an overnight trip). Too bad because I really liked SFP. So I looked around for other hang gliding schools and found Tek Flight in Winsted CT. They're only about 1 1/2 hours from me (not counting the hike up their driveway) and they have an awesome package lesson deal. But their training hills are very shallow, sure they encourage discipline in launch/landing but you hardly get to fly at all. Which is OK for some people but I don't learn well with only five-second bursts of practice. After 16 lessons across two seasons I still hadn't even gotten my Hang 1 reinstated, so in early 2003 I bailed and switched to Morningside Flight Park in Charlestown NH.
They have a much nicer hill! Any idiot can get airtime there. And they have no anti-Hang-1 bias (although it turned out the $15 surcharge that the Tek folks object to wasn't an issue in my case because I already had an expired rating, and reinstating those is free, you even get your old USHPA number back). So I got my Hang 1 back, bought a very used Falcon 195 (and sold my Mega 2 to Steve Prepost for $5, below its scrap value but it saved me the trouble and emotional trauma of cutting it up), and then got my Hang 2 rating at the very end of the season.
Since then I've been flying at wherever I can, whenever I can. Which mostly meant Ellenville NY (until I got sick of the club there and quit), but also West Rutland VT, Simsbury CT, and various hills in upstate NY. At the end of the 2004 season I got my Hang 3, and traded the Falcon in on a demo Sport 2 155 (which is an awesome glider). So now I'm looking to try some of the sites that I was never allowed to fly with the Hang 2 (so far that means Greylock and Ascutney, once each).
Here are a couple of Ellenville pictures from Feb. 2004. The first one is a side view of the main launch, with the wind sock at the top. The landing field is the biggest field visible down in the valley, just to the left of the center of the picture (and a bit below center). You can't tell from this picture, but the landing field is 1050' below the launch ramp.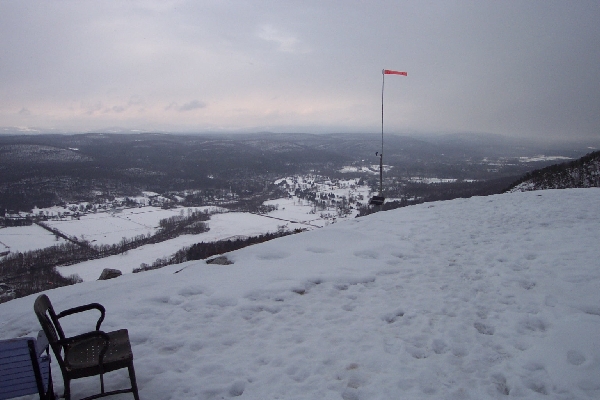 ---
This is the view down the main launch ramp. You can see a stream winding through the woods down in the valley, it's neat flying over that (before turning right to get to the landing field) since you can see it so clearly from above (no trees to get in the way, at least not in the winter).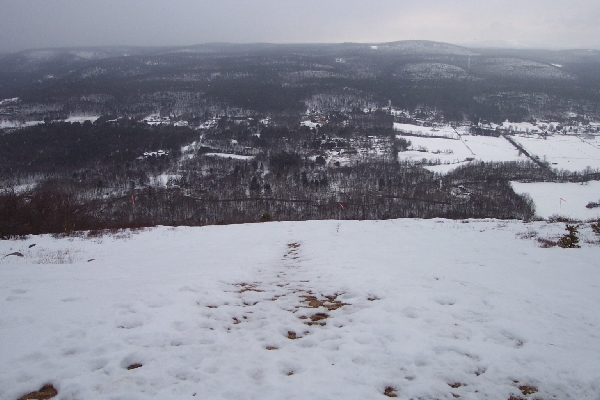 ---
Clubs:
United States Hang Gliding and Paragliding Association -- the national club
New England Paragliding and Hang gliding Club -- really a paragliding club but in theory they're friendly to HG pilots too, Mt. Tom seems to be their main site (and rumors go both ways about whether HGs are allowed there, some people say it's a guerilla site so maybe no one is really allowed there)
Connecticut Hang Gliding Association -- CT club, also has sites in SW Mass. and on Cape Cod
Massachusetts Hang Gliding Association -- very low-key club (no meetings, uh, or web site lately, and membership not required to fly their sites)
Vermont Hang Gliding Association -- also administrates Mount Washington in NH
Southern New York Hang Glider Pilots' Association -- Ellenville, NY (extremely awesome mountain site in the Catskills)
Hudson Valley Soaring Association -- oversees various sites (mostly in 518 area code), but seems to exist through oral tradition only (few meetings, no web page, newsletter, or site list)
Utsayantha Flyers' Organization -- administrates/maintains Utsayantha Mountain in Stamford NY (intersection of Rte. 23 and Rte. 10 -- 1350' AGL)
Message boards: