FDDC DC-DC converter for 8" floppy drives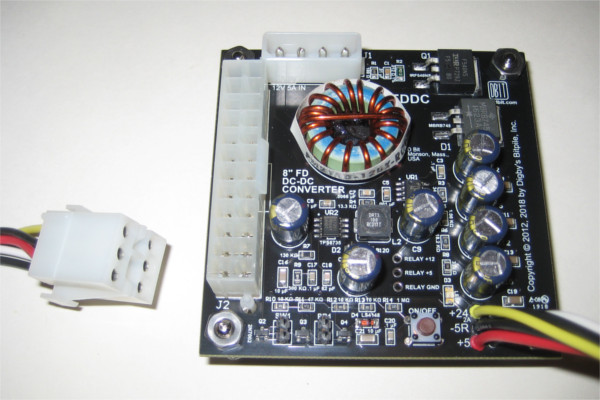 The D Bit FDDC is a DC-DC converter which boosts/negates the voltages from a PC power supply to those needed by most 8" floppy drives. It can attach to an IDE power connector on a PC's power supply that has sufficient capacity to power both the PC and an 8" drive, or it can work stand-alone from its own dedicated ATX power supply (it has circuitry to drive the ATX "power-on" signal using a momentary pushbutton as input). The outputs are supplied via a 6-pin AMP Mate-N-Lok connector using the standard Shugart pinout.
There are pads provided for driving an external (user-provided) 5VDC or 12VDC relay for switching 110V (or 220V) power to the AC spindle motors on early drives. This AC wiring must be provided by the user. Many later drives run entirely on DC power, so they have no need for external AC wiring.
The FDDC also has 2-pin headers for attaching an on/off switch for ATX power supplies. This may be either a momentary pushbutton or a toggle/slider switch. The PCB has a pushbutton switch and power LED to help with initial checkout.
Inputs:
+12V 5A
+5V (current as needed by drive)
Outputs:
+24V 2A (2.5A surge)
-5V 100mA (needed by some early drives)
+5V (passed through from PC power supply)
For most floppy drive models, this is enough power to supply a single drive.
FDDC price: US $80.00 (including mounting hardware and worldwide postage), plus sales tax in MA and NY.
The instruction sheet is available here.
---
For more information contact info@dbit.com
D Bit
15 Davis Hill Road
Royalston, MA 01368
Voice: +1 (413) 267-4600
FAX: (by appointment only -- call voice line first)
Copyright © 2023 by D Bit. All rights reserved.

---

[ Home | Download | Legal ]